Job Fair Held for SUSU Students
The School of Electrical Engineering and Computer Science of South Ural State University organised a Job Fair for senior students.
The Job Fair aimed at students, graduates, and Master's students in management and instrumentation engineering, radio electronics and computer science, and also at the leading employers at the regional market in these fields of business.
Gleb Radchenko, Director of the School of Electrical Engineering and Computer Science, delivered a welcome speech to guests of the event.
"Today, the School of Electrical Engineering and Computer Science is a centre for development of information technologies and radio electronics in Chelyabinsk. Our graduates are the best specialists in this field. During the next months many of our students will have to face a difficult task – choose their future workplaces, or choose the topics for their final projects. I hope that today's Job Fair at the School of Electrical Engineering and Computer Science will help you make these difficult decisions."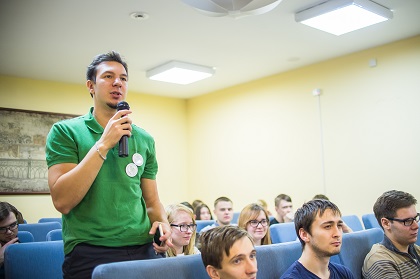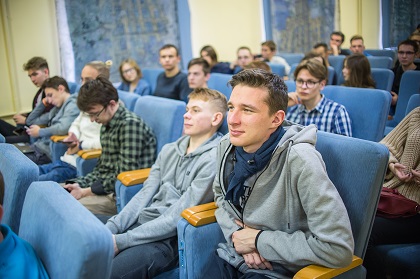 During the Job Fair, students had the opportunity to personally meet and talk with the top managers and representatives of various companies, leave their resume with them, and find out about the most interesting projects and the conditions for being selected to work at a company.
The Job Fair was divided into two sections. 12 leading companies of the region came to meet and exchange contact information with the event's participants. The representatives introduced their companies and spoke about the opportunities available to future employees in their existing projects. The companies included: ElMetro-Engineering, Uvelka, Intersvyaz, ChelPipe, 3DiVi, SKB Induktsiya, Zababakhin All-Russian Scientific Research Institute of Technical Physics, Soft-Plus, Metran Industrial Group, NPO Elektromashina, Napoleon IT, and OJSC Chelyabinsk Zinc Plant.
Leading specialist in working with trainees at ChelPipe Irina Skobeleva spoke about the Trainees programme, which has been offered as part of the agreement with South Ural State University for some time now.
"We have a project called Trainees, which allows students to combine their studies with work – from 20 hours a week. It is important to attract students of the School of Electrical Engineering and Computer Science in particular – this is the field in which we need staff. The Trainees project is applicable to everyone, so anyone who wishes to give us their resume can do so."
Director of the Centre of Commercial Internet at Intersvyaz company Oleg Plotnikov explained why SUSU students are the most valued staff for one of the most popular internet providers.
"There are not many universities in our city that train students in the technical fields. Whereas we can find students in programming from other universities, we cannot find anyone in radio electronics and communication systems except in SUSU. In this respect, the university has no competitors."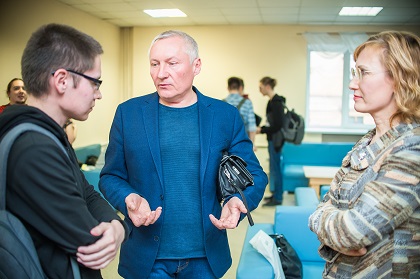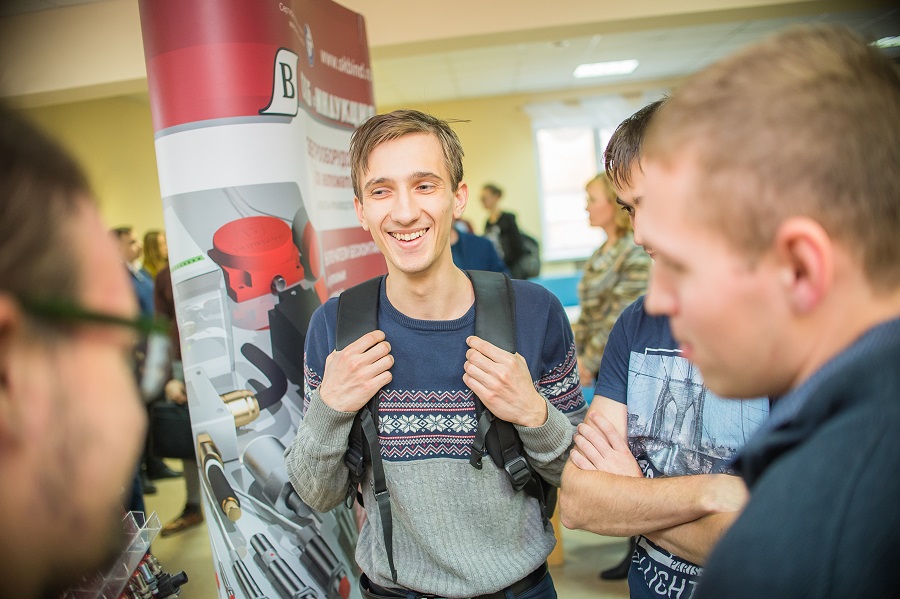 At the end of the event, the attendees had the chance to personally get to know the representatives of companies which were of interest to them and ask questions related to salary, combining work and study, and the possibility of writing their final papers or being accepted for internship.
The Job Fair event was held at the School of Electrical Engineering and Computer Science for the first time, but according to SEECS Director Gleb Radchenko, this event will now become traditional, which will give students the opportunity to get to know key employers in information technologies, instrumentation engineering, and radio electronics.